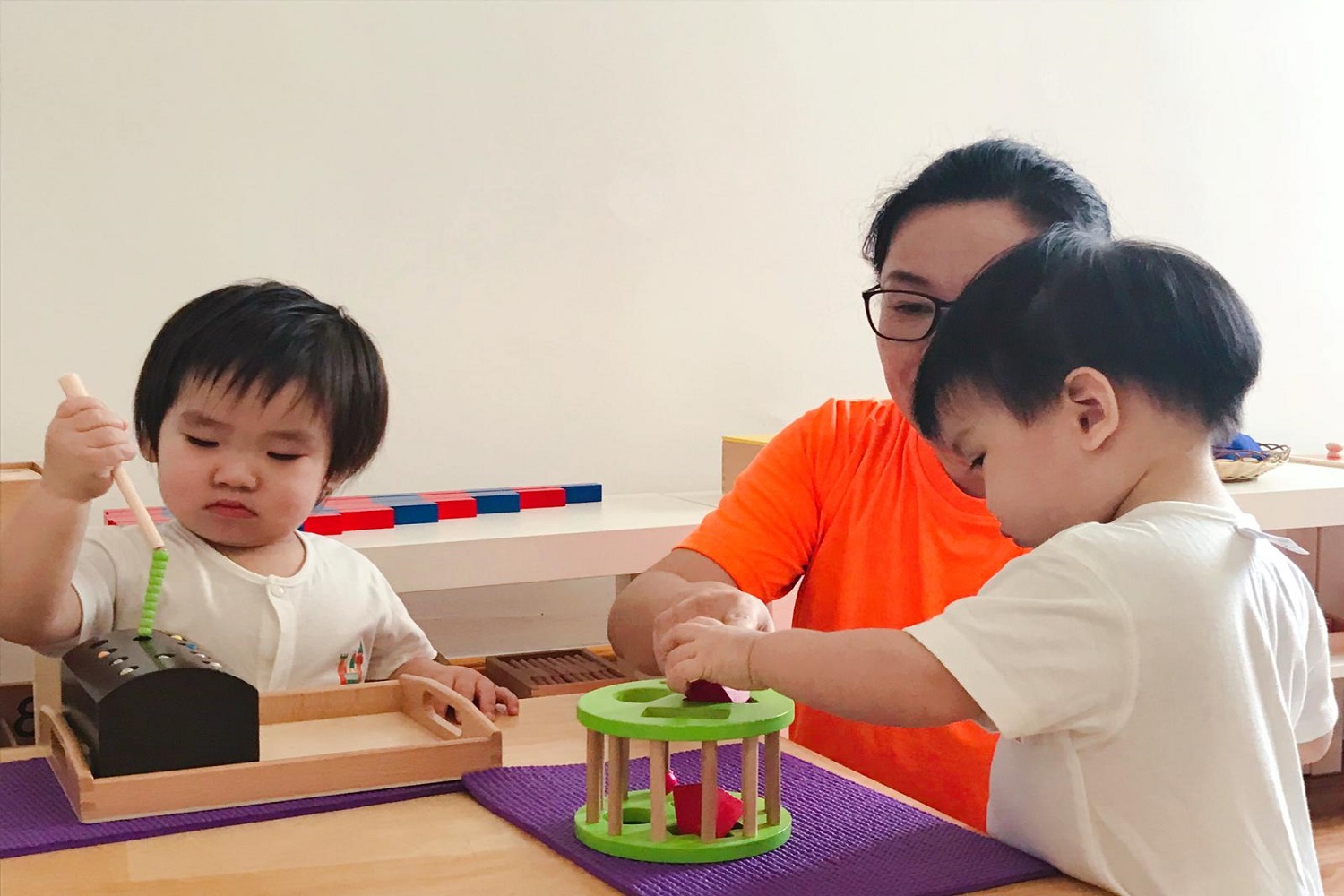 "We Nurture Your Child's Unique Developmental Progress"
Camelot PlayNursery is catered for 18 months to 36 months, giving your child the best fundamental skills and bringing out your child's optimal potential that equip him/her with skills for life and beyond.
You will find a sound curriculum with Montessori elements that bring learning fun and yet nurturing your child holistically. Learning is naturally more structured and integrated to develop life skills, correct attitude and lay a solid foundation for academic achievements.
The Montessori elements at Camelot PlayNursery comprises of the following components:
Practical Life
Practical life activities help your child accomplish life skills in a purposeful way. These activities include lessons in care for self, care for the environment, grace and courtesy. Your child learns to be more independent which leads to greater self-confidence and the ability to face new challenges. These activities also serve to enhance coordination and concentration and indirectly prepare your child for writing and reading.
Sensorial
Children are 'sensorial explorers'. As such, sensorial activities tap into a child's 5 senses of learning. These activities aim to assist your child in concentrating on the refinement of his intellectual senses through working with the sensorial materials. Your child is given the keys to classification of things around him which is the first step to organising his/her intelligence. Knowledge gained through working with the sensorial materials served as a foundation for acquiring Mathematical concepts.
Language
Language acquisition is established through laying a firm foundation in phonics. Your child learns basic sound of each letter of the alphabet. With the foundation, your child will learn to encode and bring the words together as a whole before they decode them in reading.
Mathematics
Your child learns numbers through ten as well as associating quality to quantities. Learning is very much hands-on (concrete experiences) to provide your child with sensorial impressions of the mathematical concepts.
Culture
The learning of culture is achieved through our quarterly themes, for example, 'Creepy Crawlies', 'My Community' and 'Transportation'. These activities lead your child to experience music, stories and artwork. Your child develops an awareness and appreciation of the world around him.
Supported by a dedicated team of teachers, your child's interest and natural quest for knowledge is promoted, leading to problem-solving skills, self-discovery and a love for learning.
Timings are:                       
7 am to 1 pm (half day)
1 pm to 7 pm (half day)
7 am to 7 pm (full day)