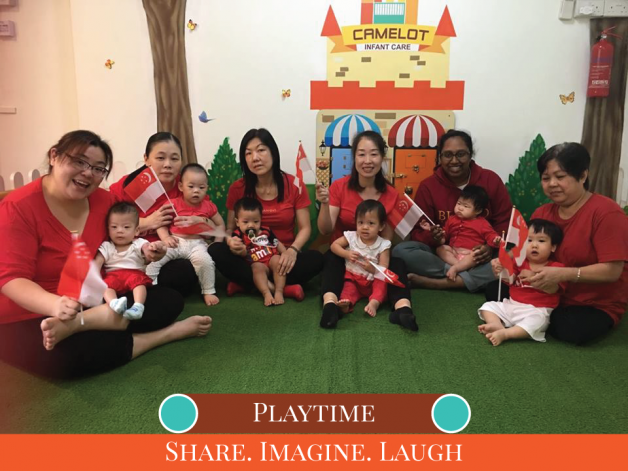 Playtime is important for all babies and toddlers. It is fun yet critical to their development. Play is work in the eyes of the little ones and their way of learning about the world around them.
Play provides for babies and toddlers a platform to try out new skills, practice skills acquired, explore their imagination and enhance their creativity, and learn about relationship with others.
Babies and children who begin school at a young age develop better in social skills. A school setting allows more opportunities for parallel play, which is a learning experience and essential in their social development. Such companionable side by side play is a good start to collaborative play in their preschool years. Parallel play opens a baby's mind to new possibilities for play. In addition, it helps babies learn new words too.
Benefits of Playtime at Camelot – infant and toddler care:
Parents intuitively know that playing is good for children, but we rarely associate playing with learning. It turns out that there are many benefits of playing. Playing is not only fun, but also essential to a child's growth and development.
Improved Socialization Skills
Socializing is a part of life and if mastered during early childhood, enhances a child's confidence. At Camelot Infant Care, play provides opportunities for children to learn social interaction. Your child's social skills are enhanced when they engage in pretend and negotiation during play with peers. Whilst playing together, children learn to cooperate, follow rules, develop self-control, and generally get along with other people. They also become more aware of other people's feelings and beliefs, and thus learn to empathize and get along with people.
Better emotion control
Your child may encounter disagreements or even arguments with their peers during play. Our educarers are well experienced in handling such situations by helping them verbalize themselves and also guiding them to proper mannerisms, like self-control. Well-regulated children can wait for a turn, resist the temptation to grab a desired object from another child, control negative emotion and persist at a challenging activity.
Improved Problem Solving
Playtime exposes them to daily challenges which encourage a thinking child. During group activity they learn to analyse so as to tackle the challenge and achieve the objective. Playtime engages them to dissolve such situations and come up with alternative solutions. It is also a useful tool for them to rehearse skills and future social roles in a safe context.
Playtime Is The Comfort Zone
Playtime is the most fun part of a child's learning journey. At first, it can be scary for children when they first start Pre Nursery, being away from their parents or caretakers. At Camelot, our caring and friendly teachers help them settle in to their new environment by engaging them through play, which is an excellent way to bond. Ultimately, such positive interactions contribute to the child's feelings of comfort and security.
Language Skill Enhancement
At home, children often become spoiled, and get what they want even before they communicate it, as their caregivers are aware of their needs and wants. At Camelot however, they learn to speak, in order to have others understand what they want. While playing with other children, they learn to interact, express themselves and be articulate. Gradually, your child learns to communicate effectively, so their language skills become enhanced over time.
A Way To Release Energy And Emotions
While playing, children tend to release energy which is healthy for their body. The balance of sentiments in their body makes them realize different emotions like happiness, sadness, conflicts etc. Playtime allows them to release frustrations and calms your child. This helps to increase their attention time during lesson later, instead of feeling the pressure of concentrating.
Increase Imagination & Physical Development
When children play together, they come up with creative ideas to engage in a fun activity. They learn to role-play on adults' positions like teachers, cops, moms etc. This helps fuel imagination and sparks creativity. Play also often involves physical activities that benefits physical health, motor control, strength and endurance. A healthy body helps breed a healthy mind! What If Your Child Doesn't Get Enough Playtime?
What If Your Child Doesn't Get Enough Playtime?
Researchers have found all modern children incur greater stress levels if not sent to play on a regular basis. The playtime at Camelot helps them balance their mental and physical strength. Children that do not have plenty of playtime spend their free time doing other things such as playing electronic devices or watching TV, which are not beneficial to their long term success.
Enrol your child at Camelot Infant Care. You would love your little ones to be in safe hands of experienced teachers, while exposing them to fabulous training and nurturing activities.
Camelot AMK, located at Ang Mo Kio street 62, is just 1.7km from Ang Mo Kio central, and within 7 min walk from Yio Chu Kang mrt station. For families living in Yishun, Sengkang and Buangkok, it's also within 10 min drive away.