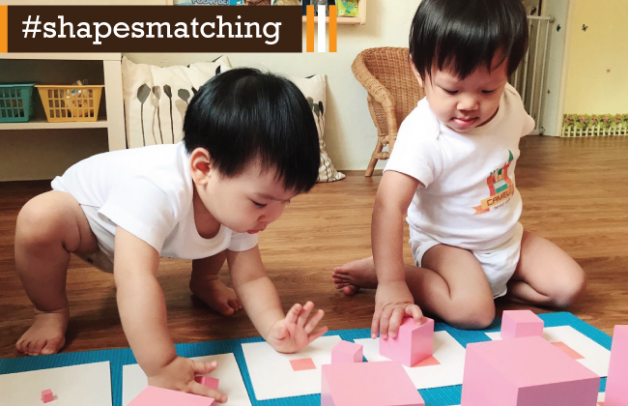 Block building at infant care centre Singapore help in developing gross and fine motor skills, also improves cognition. Blocks come in different shapes and sizes with limitless building possibilities. As children go older, they develop new ways to creatively build blocks and bang them on the floor once they have finished playing. A sensory development skill forms into toddlers as they feel block texture, color and their unique sounds.
Camelot Infant Care Centre has a consistent curriculum with mind games, block games, art games to divert your child's thinking and give a distinct direction for learning in the coming school years. All the activities are designed at the infant and preschool Singapore keeping in mind different needs of every child, proper check of the nutrients and timely parents-teacher meeting makes our centre interactively sound.
Blocks are the first fascinating toy a child comes in contact from a very earlier phase and it has a significant importance with it discussed as under:-
Creative Learning Tool!
A child can make as many variations with the block to show his creative skills, different color combinations, shapes, figures and a very fine way of understanding the concept of small-big objects. Creativity balances their brain with actual learning and playing skills which gives them an overall developmental soundness.
Toddlers develop more control, learn to combine, stack and line up blocks, attempt of building basic structures help in catering imagination. Preschoolers learn intricateness of the blocks and how they fit in each other despite of complex structures.
Basic Human Behavioral Foundation Is Taught By Block Building Game!
 Physical Development Of The Toddler
Building blocks develop strong muscles which make their daily chores simpler like tying shoes, buttoning their clothes, eating with a spoon, drawing or writing. Apart from such motor skills, building blocks help in hand-eye coordination which helps in developing efficient task performing. Infant Care Centre development curriculum makes your child purposefully do the activities time to time, for proper skill set built up in every toddler.
Blocks are the pioneer to learn color difference, structural jointing, make an efficient structure, understand the theory of construction from big to small and vice versa.
Language Development Skills
A child while learning new things always scream, shout and celebrate their small achievements during the play. Educarers at the infant care centre assist the kids by asking them questions like what did you build? How did you make it? What is the name of your structure? Will the structure retain the height? Children will keep in mind the conversation with their educarer and will work on it at the same time to make their model more attractive. It helps in building the child-teacher bond which makes the educarer know more about a child and express it well to their parents in the meetings.
Cognitive and Social Development
When we see objects around us the images are formed in our mind and relate it to other things, same is with the children they observe minutely at this tender age and have an ability to create perception about things. Children learn to recognize shape, size, color, numbers, patterns, length, width of the object by moving away and forth. This helps in cognitive skill development as they represent mental picture of things and give them concrete form through block building makes their abstract thinking strong.
In preschool children tend to make friends and get a social exposure through block building task, they accept each other's presence and know the importance of teamwork. Blocks make an easy conversation flowing between preschoolers and infants at the centre they communicate, share and cooperate with each other.
Hence the most effective "Block Building" play is an important amalgamation of skills that your child can get through consistently playing at the Camelot infant and preschool care centre Singapore.
Visit us at the centre for more information and visual satisfaction for your child's development and nurturing abilities. Meet us and built a trust for years ahead!!