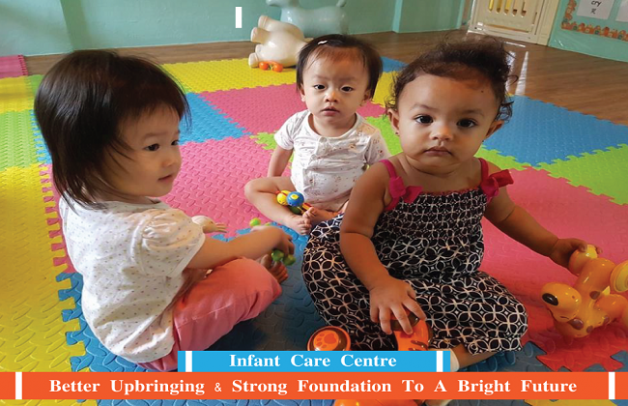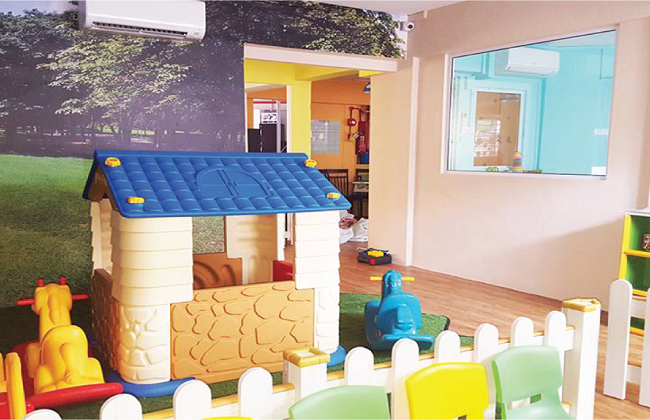 The environment at the Camelot infant and toddler care centre has been designed to specifically encourage growth in your child. Cleanliness is the idea behind a healthy baby development which is thoroughly practiced at the centre and the vibes here are friendly and encouraging. Best Child Care in Singapore with profound educarers and specific child enrollment for proper guidance & care.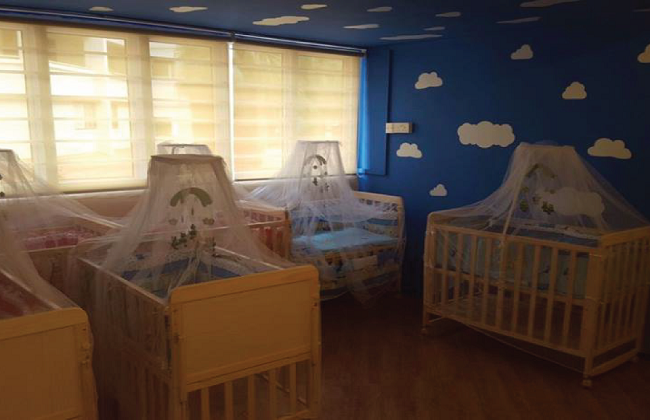 We train your child and schedule their routine, every little need for the day is present at the infant care centre Hougang. A proper time-table of every child is prepared by the educarers and is also shared with the respective parents it includes timely eating, sleeping, playing, nappy change etc. The staff at Camelot is highly qualified and functions exactly as per your munchkin's needs.
A spacious setup where your child can gain the language development through storytelling, babbling with the educarer and learning to respond with their actions. Walls of Camelot infant care centre Singapore are painted with eye-catchy colors and stories, which will engage your little one into a fantasy world and increase their imagination power.
Regular parents- educarer meetings are held to give an insight about the child's habits and development. Parents never feel left out of their baby's growing phase even while working, they are welcomed at the centre to know the interiors and their child's safety anytime they wish too. The main aim of the Camelot infant and toddler care centre is to nurture the development phase of your child in the right direction with utmost manners and decision-making power.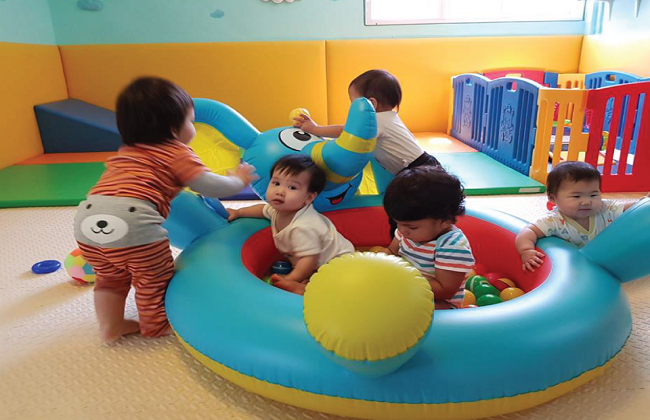 Playtimes are fun for the infants and toddlers with ample of space to roam around and with appropriate toys to play they learn to gradually move their bodies crawl, stand up by some support and most important of all "jel with their peers" at the centre. To understand human behavior and withstand each other is what they learn from our childcare centre Serangoon.
Children love when they are given their due attention and our educarers make sure they do so, at the centre they love to play with different toys, do some activities on the matt, have enough roaming space in a room and can easily pursue emotional skills when attached to a particular toy or place. The educarers know every little requirement and mood swings that it is going through, an art of observation is what our staff has mastered in these years.
 Conclusion
We at infant care centre Singapore always have an aim of your child being nurtured and given a specific direction of becoming a good human being which has sensible manners and learning abilities to flawlessly pass the coming years. At an early age your little one can gain immense of knowledge it trained at the right time with right surrounding and educarers. Make your move towards our centre and lead towards a successful foundation of your child's upbringing!
Camelot International Infant Care Centre has now taken a leap by announcing their Play group for toddlers thus there can be new enrollments and the infants can continue coming to the centre for further development without leaving the vicinity. The centre has a fine indoor and outdoor playground where the toddlers can play freely with no harmful things in it. A child develops hands and legs muscle and forms an opinion about objects surrounding it which helps in overall mental and physical development.
This infant care centre is convenient for families staying in Bartley to drop off and pick up their precious one. For those that use public transport, Camelot is only 7 min walk from Serangoon MRT station or Lorong Chuan MRT station. For families living in Hougang, we are also just 3.5 km away, and a 5-10 min drive depending on which part of Hougang you reside!
Happy Nurturing!!